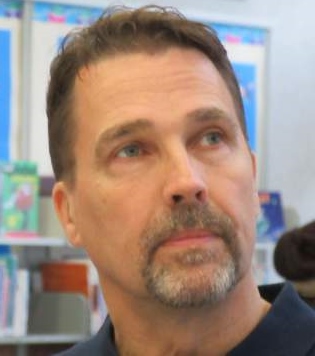 Jeffrey Round, Author of Bon Ton Roulet, Fourth in His Bradford Fairfax Murder Mysteries
ABOUT THE AUTHOR & HIS DISTINGUISHED CAREER

Canadian author Jeffrey Round studied theatre, literature, psychology and music at Dalhousie University, obtaining a degree in English Literature. He also attended the Humber School for Writers, where he was mentored by writer D. M. Thomas, as well as Ryerson University's Film and Television program. In 1991, while working as an editor for Pink Triangle Press, he founded The Church-Wellesley Review, Canada's first annual print journal for LGBT creative writing, published as a supplement in Xtra! It later became both a reading series and an on-line quarterly, continuing until 2002. The review featured contributions from such notable writers as Jane Rule, Timothy Findley, Douglas LePan and Shyam Selvadurai, and introduced writers Dale Peck, Michael V. Smith and Gordon Stewart Anderson. From 1995 to 1998, Round directed Agatha Christie's long-running hit The Mousetrap during its 27 record-breaking years at the Toronto Truck Theatre. In 1992 Round founded the multi-media theatre company Best Boys Productions with then-partner and gay activist John Davison. His first full-length stage play, Zebra, about the real-life murder of librarian Kenneth Zeller, won the Gay and Lesbian Appeal's "Right to Privacy Award" and was nominated for a Pink Trillium for Best Play. The pair produced five other stage works, including Dawn Rae Downton's Blessed and Round's The Michael Ridler Project (Is it art or still … life?), about out gay painter Michael Ridler.
In 2002, his short film My Heart Belongs to Daddy premiered at the Director's View Film Festival in Norwalk, CT. It won awards for Best Canadian Director and Best Use of Music at the Hollywood North Movie Festival, and the Schweppes Prize at what would become the first annual Canadian Film Shorts festival. In 2005, Round was nominated for the KM Hunter Artists Award for Literature for "a body of work" that included fiction, poetry, drama, and literary criticism.
Round is the author of two mystery series featuring gay male protagonists. In 2007, Haworth published The P'Town Murders, the first Bradford Fairfax mystery. In 2012, Dundurn Press published the first Dan Sharp mystery, Lake On The Mountain, winner of the 2013 Lambda Literary Award for Best Gay Mystery. In 2009, with Shane McConnell, Round began Proust & Company, a musical-literary evening at Glad Day Bookshop in Toronto to help raise awareness of the world's oldest existing LGBT bookstore. He served on the jury for the 2011 Dayne Ogilvie Prize, a literary award for emerging LGBT writers in Canada, selecting Farzana Doctor as that year's winner
In 2015, with Michael Erickson of Glad Day Bookshop, Round co-founded and co-named the Naked Heart LGBT Festival of Words, which became Canada's most racially-diverse literary event. He has also served as the Ontario Representative for The Writers' Union of Canada.
Round has also worked as a producer and writer for Alliance-Atlantis and the Canadian Broadcasting Corporation. As a songwriter he has composed for, and performed and recorded with, acclaimed Canadian soprano Lilac Caña.
In addition, he has written about and credited such diverse cultural figures as Glenn Gould, Janis Joplin, John Lennon, Sylvia Plath, James Dean, Joni Mitchell, Tennessee Williams, Vincent van Gogh, Oscar Wilde, F. Scott Fitzgerald, Anton Webern, Marcel Proust, Gabriel Fauré and William Shakespeare with the shaping of his creative vision.
A long-time resident of Toronto, he has also lived in London and Milan and he has sojourned in New Orleans when writing his books set here.