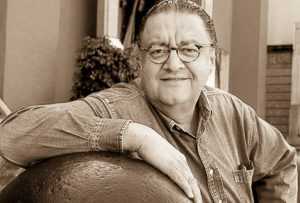 About the Author
Mexican journalist and fiction writer Jorge F. Hernandez will join the Faulkner Society for the 2016 Words & Music festival in November. Hernandez currated, edited, translated, and translated the story collection Sun, Stone and Shadows: 20 Great Mexican Short Stories, a National Endowment for the Arts BIG READ selection.
The BIG READ program provides materials and support for communities to read and discuss a single book together. The program has supported more than 1,100 projects since its inception in 2006. As part of the Words & Music festival's BIG READ events, Hernandez will present on the book and on Mexican fiction in general.
Hernandez was born in Mexico City and grew up in Washington, D.C. He has published five short story collections, five nonfiction collections, and is currently finishing a novel in English. A bullfighter in his earlier life,  "when I was young and thin," he says, Hernandez now lives in Madrid and writes for the Spanish newspaper El Pais. He also has written a weekly newspaper column for the Mexican newspaper Milenio for 15 years. Currently, he also is a tutor of creative writing at Fundacion para las Letras Mexicanas, A.C.
Hernandez worked on Sun, Stone and Shadows while he was an editor at the prestigious Fondo de Cultura Económica publishing house in Mexico. He calls the collection the best anthology of contemporary Mexican short fiction. Most of the stories were written during the first half of the 20th century, and more than half during the 1950s and 1960s. According to Hernandez, this pre-globalization era featured writers who were distinctly Mexican.
The writers themselves are geographically diverse, representing many regions of Mexico, and historically diverse, with birth years spanning from 1887 to 1968. The collection's oldest writers, such as Alfonso Reyes and Martin Luis Guzman, survived and wrote about the Mexican Revolution, while the youngest wrote during the height of the Cold War.
Hernandez will present Sun, Stone and Shadows at several events co-sponsored by Words & Music and other community organizations, including an on-campus event at Tulane University co-sponsored by a BIG READ partner the Latin American Library, whose Doris Stone Director, Hortensia Calvo, has been a part of the Faulkner Society's Pan American Connections Committee since its inception. That event will take place on November 9 at 6 p. m. at  Freeman Hall.  He will appear with the impressive young Mexican fiction writer Yuri Herrera.  A second event for students and teachers will take place at earlier that day at the Algiers Regional Library at 10:30 a.m., while a third public event will be hosted by another BIG READ partner, the New Orleans Public Library, Main Branch, at 6 p. m. on November 10.  All three events are free and open to the general reading public. Each event will conclude with a question-and-answer session. Additional events focusing on the literature of the authors included in Sun, Stone, and Shadows are being  held in the weeks leading up to the festival.

The 2016 Words & Music festival opens November 9 and runs through November 13. For more information about Sun, Stone and Shadows: 20 Great Mexican Short Stories, including a reader's guide and teacher's guide, go to http://www.neabigread.org/books/sunstoneandshadows/.