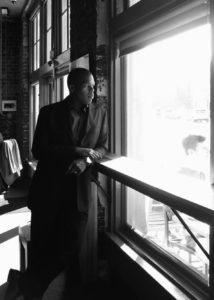 Maurice Carlos Ruffin, a native New Orleanian, is a founding member of the Peauxdunque Writers' Alliance, a multi-genre writers group formed under the auspices of the Pirate's Alley Faulkner Society's Words & Music Writers' Alliance. Ruffin, currently Chairman of Peauxdunque, was first runner-up for the Short Story Prize in the 2010  Faulkner – Wisdom Competition for his story The Pie Man.  Maurice also was a finalist for two other short stories Abracadabra in 2009 and Fit  in 2010.
In 2014, he won the gold medal for best novel-in-progress for his manuscript, All of the Lights.  It had never happened before in the history of the Faulkner – Wisdom Competition, but in the Novel-in-progress category that year, all preliminary round judges selected one entry as the standout, as their first choice. Preliminary readers for Novel-in-progress, all of them sent back words to the effect: "All of the Lights is the clear winner." He also was runner-up for the gold medal for essay for his essay, A History in Motion.
He is a winner of the 2014 Iowa Review Fiction Awards Contest, the 2014 So to Speak Journal Prize, and the 2013 Joanna Leake Thesis Prize. His work has been published or is forthcoming in The Iowa Review, Redivider Magazine, Callaloo, the Apalachee Review, and Unfathomable City, a recently published New Orleans atlas edited by Rebecca Solnit and Rebecca Snedecker.
An attorney, Maurice recently he received an MFA in Creative Writing from the University of New Orleans.  He practices law with the New Orleans firm of Adam & Reese. He will read a short excerpt from new work at the Writers' Alliance Session, Thursday afternoon, November 10.