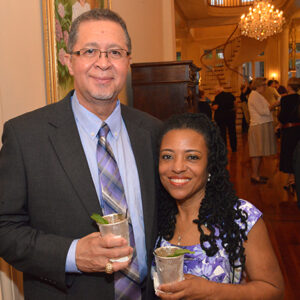 Kim Vaz-Deville is shown here with her husband, Bill Deville,
at Juleps in June, 2016, at the residence of Andrea and David Bland

Kim Vaz-Deville, Ph.D., LPC, a special guest of honor for the Faulkner Society's annual overture to the summer social season and fundraiser,  Juleps in June, 2016, as well as a member of the faculty of presenters for Words & Music, 2016, received her bachelor's and master's degrees from Tulane University and her doctorate in educational psychology from Indiana University in Bloomington.  Currently, she is a professor of education and associate dean of the College of Arts and Sciences at Xavier University of Louisiana.  She is the author of The 'Baby Dolls': Breaking the Race and Gender Barriers of the New Orleans Mardi Gras Tradition published by Louisiana State University Press in 2013. The 'Baby Dolls' is the 2016 selection of the Young Leadership Council's program, One Book One New Orleans. Her work on the Baby Doll masking tradition has been featured locally on WWNO, WRBH, WWOZ, WYES-TV's Steppin' Out, Off Beat Magazine, Where Ya' At Magazine, The Times Picayune and The Advocate and nationally on National Public Radio (NPR) and Black Entertainment Television (BET).  In 2013 her book was the basis for a major exhibition titled They Call Me Baby Doll: A Mardi Gras Tradition at The Louisiana State Museum Presbytere unit. An art exhibit guest-curated by Dr. Vaz-Deville and painter Ron Bechet titled Contemporary Artists Respond to the New Orleans Baby Dolls was on view in the spring of 2015 at the George and Leah McKenna Museum of African American Art in New Orleans.  Dr. Vaz-Deville's area of research is the on the use of expressive arts as a response to large group social trauma with attention to women, gender, and insurgency.
The Baby Dolls of New Orleans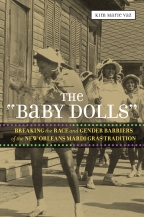 The tradition of black women and men dressing up as 'baby dolls' was started by women working in the red light district of segregated New Orleans. Started in 1910, it caught on as a 'masking' practice adopted by blacks throughout the city on Mardi Gras and St. Joseph's night. The tradition grew out of local black performance practices but went further in its defiance of the rules of conventional behavior expected for women of that time. One of the earliest groups, The Million Dollar Baby Dolls began as a carnival club for African American sportin' women in New Orleans. The Million Dollar Baby Dolls translated the profits they made from working in the legalized pleasure industry into a sustained Mardi Gras presence. Their 'raddy' walking, shake-dancing, cigar-smoking, money-flinging, and 'bucking' activities gained them notoriety. The Baby Doll maskers, while initiating their practice to show-up and outdo other similarly placed Black women maskers around 1912, eventually developed into a social and pleasure club. If imitation is the highest form of flattery, the creative imagination of black women and men throughout the city was stirred by these tough and playful women from Back-o-Town, the neighborhood of Louis Armstrong. They are notable for being one of the first women's street masking groups in the United States. The Baby Doll masking practice continues today as a living art form.